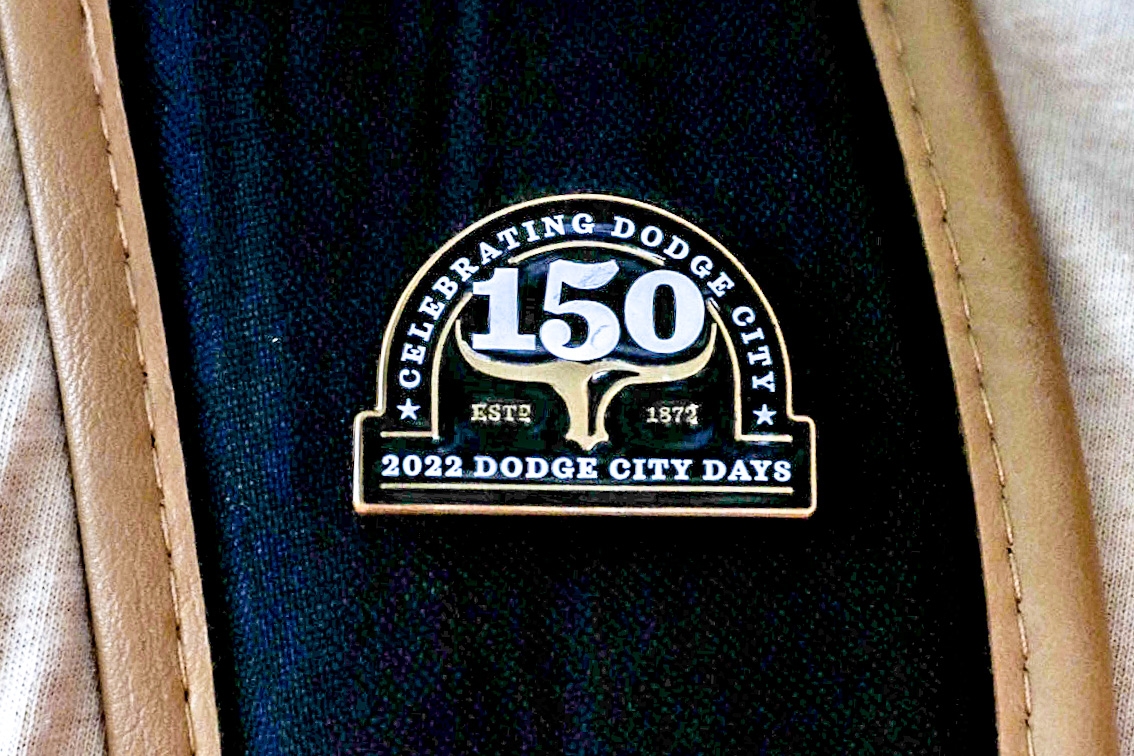 Dodge City Days Lapel Pins
For 150 years, Dodge City's rich, vibrant heritage has provided our community with stories of adventure, grit, and our own brand of western spirit. This year's festival is themed around a partnership with the planning committee of the 150th Anniversary celebration. As we celebrate the anniversary during 2022, make sure you mark your calendars for July 28th through August 7th for Kansas' second largest festival.
Our Dodge City Days Committee chose the below design for the 2022 Dodge City Days Lapel Pin to align with the theme of the year.
Lapel Pin sales ARE LIVE as of June 1, 2022.
Pins are available for purchase at:
Western State Bank, 2121 N. 14th Ave
Red Beard Coffee, 319 Gunsmoke St.
Boot Hill Museum, 500 W Wyatt Earp Blvd
Centera Bank, 2200 N 14th Ave
Credit Union of Dodge City (both locations)
- 1200 W. Frontview Street & 802 W. Trail Street
Dodge City Area Chamber of Commerce, 101 E. Wyatt Earp
Dodge City Brewing, 701 3rd Ave
Dodge City Convention and Visitors Bureau
- 400 W Wyatt Earp Blvd
Dodge City Roundup Rodeo, 608 S 14th Ave
Landmark National Bank (both locations)
- 100 W Spruce St & 2500 N 14th Ave
Sunflower Bank, 2408 1st Ave
Walmart Supercenter, 1905 N 14th Ave
Fidelity State Bank (three locations)
- 510 N 2nd Ave, 1801 Central Ave, 316 Gunsmoke St.
Gibson's Pharmacy, 2401 Central Ave
Lapel Pins are required for the below events: (Some community members may offer discounts with a lapel pin, see schedule of events for more details.)
St. Catherine Hospital-Dodge City kickoff reception
Village Square Mall steak cookoff
National Beef Smokin' Saddles bbq contest (both Days)
Centera Bank backyard bbq competition
St. Catherine Hospital-Dodge City little smokies kids-q
Freddy's Salute the Troops hamburger feed
Hilmar public hamburger feed
Gibson's Pharmacy classic car show
Truck Center Companies touch-a-truck
Mcdonalds kidfest